800 Acres with Pigs, Foxes, Rabbits, Sambar Deer & Trout Fishing.
To hunt deer on this property you must hold a R or G licence.
SSAA OR HUNTING CLUB MEMBERSHIP REQUIRED BY ALL HUNTERS
>> Scroll to the bottom for all property details
BOMBALA 2 DEER HUNTING PROPERTY INFORMATION
Bombala #2 is an 800-acre property offering very hilly terrain where pig, Samba deer, rabbits and wild dogs can be found and hunted.
This is a beautiful property with plenty to do for hunters and families alike. It is a 1-hour drive to the beaches or ski fields and only 2 hours from Canberra.
Generally, walk hunting is best. Spotlighting fine.
No dogs allowed. ATV's and quad requests considered though not preferred.
A 4 x4 is required to get around the property as it can get washed out and very boggy and/or steep in areas.
Telstra service is very limited, with only a couple of spots receiving a very low signal. In case of an emergency there is usually a phone available at our sheds.
BYO everything for Camping, water can be sourced from a tank at "Top Camp"
No need to bring firewood – the property has available firewood lying around the property for you to collect.
You can sight your firearms and target shoot at your campsite, of course observing all safety precautions.
No trophy charges.


Terrain
The property is hilly and mountainous with a river on the opposite side of the highway, a semi dry creek and 2 small dams.
Temperature and Rainfall
The average annual temperature in Bombala is 11.4 °C. The average annual rainfall is 729 mm.


Facilities
Bombala #2 provides a beautiful environment in which to enjoy your experience. If you choose to set up camp at "Top Camp" there is a partially enclosed shed serving as a camp kitchen. There is water available for both drinking and washing along with table / chairs and some basic cooking equipment. Feel free to use this facility, if the weather turns bad you may wish to throw your swags on the floor too! We can also supply a BBQ if you would like.
BYO everything for camping – ute, swag, tent, canopy etc. BYO food, beddings, lights, fuel, cooking equipment, BBQ, insect repellent, sunscreen, solar camp shower, eskies and a sense of adventure!
Owners can provide a BBQ if needed and extra water can be fetched from the river.

Best Time to Book
You can book anytime, noting there can be snow in winter.
The best time to arrive at the property on weekdays is after 3pm, and anytime on weekends. Depart anytime.


Property Owners Rules
Rules on the property are simple – follow and read the conditions for property access book. Common Sense – leave gates as found, no shooting at or anywhere near grazing cattle, or on ridgelines, respecting property boundaries, avoid driving on near crops and gardens. Look out for horses and riders, domestic dogs and one domestic cat. Hunt respectfully and please do not shoot at signs, old cars or bottles. Take all rubbish (and shells) with you to the designated area, obey any fire restrictions especially total fire bans. No hooning. Please no loud offensive language.
Property History and Information
The current owners have been on the property for 5 years. Many years ago it was open farming land before becoming a pine and hardwood plantation.
Bombala #2 is a beautiful mountainous property with amazing views and sunsets. Gorgeous bush ranging from older gullies to regrowth of hardwood abounds, with the gullies being quite rainforest like in some areas. Hopping Joe Creek divides the property and runs during periods of rain with beautiful ferns at its banks. This beautiful block just off the Monaro escarpment looks coastally rather than toward Monaro country.
The abundant deer love this habitat and the many pigs enjoy the waterholes and wallows.
When the family comes along with hunters, they can relax by the waterhole, picnic, read, pat the horses, or use the surroundings as inspiration for art or photography. They can bushwalk and beach walk as the beach is only 1hour away. Beautiful Rockton Falls are also nearby and easily explored by car along with other scenic drives.


Tourist Attractions
This property is 35km from Bombala.
Bombala is a beautiful little town an hour from beaches and ski fields and 2 hours from Canberra with lots of scenic drives nearby. The township features great eateries and great little boutique git stores. There's a pub and RSL CLUB, Chinese Restaurant, hospital, swimming pool, hardware and electrical stores, bakery, IGA, shoe and clothing stores, Australia Post, doctor and chemist. It's a great community with friendly country folk! Rockton Falls are close to the property and a stunning natural attraction. (See photo below)


Cathcart township has a general store that stocks a huge range of hunting gear, from ammo to clothing and camp supplies. Please note there is no EFTPOS available there. Cathcart is approximately 50kms from the property but if you are coming from the coast it is a great little store to investigate.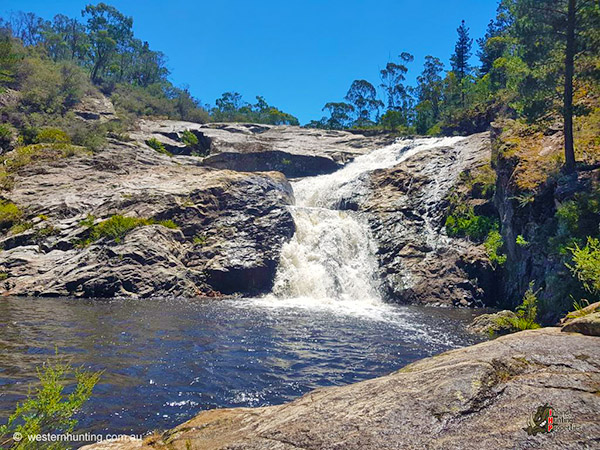 Additional Supplies
Fuel in Bombala open 6am-7pm Mon-Fri, 7am-6.30pm on Saturday and 8am-6.30pm on Sunday.
IGA Bombala is open 6.30am-7pm Mon-Fri, and 7.30am-4.30pm on Saturday and Sunday.
There is also a sports store for ammunition or hunting supplies at Cooma that would best be accessed on your way to the property. No such supplies in Bombala so best to come prepared.
SUBMITTED HUNTING PHOTOS
PROPERTY ACCESS
For access to any of our properties, all Shooters, Non-shooters and Bow Hunters require current membership of one of the following:

All Doggers on dogging approved properties need to be a member of the APDHA
For each non-hunter attending any of our properties, it is compulsory to be covered by current comprehensive public liability insurance. This is a non-negotiable requirement and forms part of your booking contract. Similar to having travel insurance to go on holidays. This insurance is available by being a current member of an AHO, the SSAA or the Shooters Union before your booking is approved.
We also recommend current ambulance cover.
You enter these properties fully aware of the risks involved and do so at your own risk.
IHP, property owners and all related and unrelated parties are not held liable for any claim, accident or injury.
In other words, take responsibility for your own actions, watch what you are doing and ACT LIKE AN ADULT WITH COMMON SENSE.
Read and understand the Conditions of Property Access