Hunter Testimonials
Tens of Thousands of Happy Hunters
Booking your next memorable hunting adventure with IHP is as easy as 1-2-3!
Browse through our wide range of available properties and choose your preferred location.
Contact the IHP Team to schedule your trip.
Lock in your booking quickly and easily by paying a deposit online.
We offer some great benefits, including exclusive property use, a wide variety of game to hunt, flexible accommodation options and great value for money.
You'll also become a valued member of our tight nit hunting community with some great benefits.

But don't believe us, read some of the many hunter testimonials below to find out what a great hunting trip you could be having!
Then give the girls at the home office a call today on (02) 65 857 185, or contact us using the online form for a quick reply.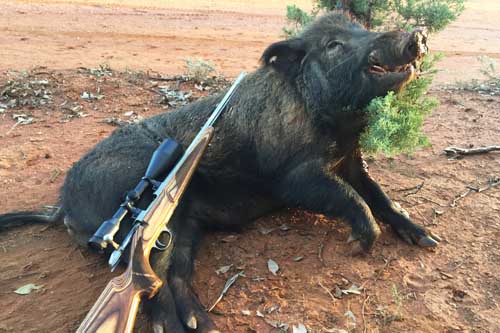 Thousands of happy hunters book through Inland Hunting Properties - Here's why:
"Hi Girls, just to let you know I left the property early. I loved the property and the owner was a terrific bloke. I haven't camped for many years and I wasn't really prepared for the cold. I did managed to give my quad a good run which it needed. I will be booking again for another hunt."

Mick
"Hi to the IHP crew, just like to say thank you for allowing us to hunt through your company at Bollon Qld. It was a great trip. The owner was a terrific guy. We met up with him a few times and helped him a bit with his cattle.
We got heaps of pigs, missed one great big bugger so hopefully he will be there for us next time. There were so many baby pigs running around, this makes future hunting trips look promising. We intend to go back at the end of the year. There was plenty of water in the creeks which meant we had fun with the yabbies. A very tasty meal that night.
Thanks once again for your efforts in making sure we had a great time. "

Matthew
"Just wanted to thank IHP for a fantastic opportunity at the Manilla property NSW. The property was amazing and the owners are some of the nicest people around. A big thank you to everyone and we will be using you guys in the future."

Mitch
"My Family and I have been using Western Hunting for approximately 8 years in that time the team have always been great to deal with. They're genuinely nice people and have been flexible in assisting us with all our hunting arrangements. The properties, and property owners are first class, we are always made to feel welcome and the game is always there, even my wife manages to knock over a few pigs every trip. Western Hunting takes the hassle out of trying to get on a property, I would and do recommend them to other hunters."

Kirk Morrissey
" The team at Inland Hunting

Hi guys, I would like to personally thank you all. After contacting you to find a property, you went above and beyond, even when it meant loosing the deposit. I have been using your services for some time now and have had no issues with any of the properties you have supplied. The hunters I have taken to properties have always seen game and most often than not, bagged a nice size tropy. You provide a valuable service to the hunters and farmer alike. I am always happy to pay the monies asked when I know it goes to help out our farmers. My young bloke an I, will always be looking out for new properties to hunt on. At the moment I am trying to arrange a week or so out west for a group next year, so we will be contacting you when we have dates and numbers to arrange one of your bigger properties out west. Cheers and thanks! "

Steve Avery

"Hi Guys, looking forward to booking another trip soon, as usual our last trip away was easy, no hassle and you are always going out of your way to help with anything. Managed to bag our biggest boar to date, my boys are keen hunters and enjoy getting away as much as I do. I would recommend inland hunting properties to anyone interested in a hassle free hunting /fishing trip. "

Nick Brady
"Hi, My son Anthony and I hunted on one of your properties last week and it was great. All your info and expert help made it a terrific time for us. Thank you and we will do it again and definitely recommend you to others. "

Regards, Noel
"Hi, Just letting you know how we went on our last hunt. 25 pigs between 2 hunters. The owner said some of the previous hunters were complaining there were no pigs. Honestly 6 years ago when we started hunting with you, we also said there were no pigs on any of your properties. In the end we decided on only hunting one property, get to know it, and learn how to hunt. We used to break all the rules and maybe shoot 2. Now we hunt less, hunt right and shoot a whole lot more. There are no more pigs today than in previous years and there is no perfect property. Hunting is skill that has to be learned. Love your work "

Shane Guerassimoff
" Good morning, Just arrived home from our hunt. It was such a fantastic trip, the farmer was such great character, accomodation was really good & we got pigs!! 12 all up so we were very happy to say the least!! I really appreciate you going out of your way for me on this trip & will send thru some pics soon. "

Thanks again, Blair
Ready to Book? >>Click here
" Dear IHP, Just a quick email to let you know that I thoroughly enjoyed my time at Cobar after booking a 3 day hunt through western hunting. Property owners were superb hosts and were always polite and friendly. I had many opportunities to shoot goats, foxes, rabbit's and other vermin and managed to get a really good trophy goat. There were a few pigs but they we're too quick for me. Thank you for your help choosing this property and I look forward to my next adventure with Western Hunting. "

Regards Simon Robins
" Gday, Just wanted to shoot an email over to say once again thanks so much for the opportunity to be a guest at your Cunnamulla station. John and lyn were very welcoming and we had a great time there. We will definitely be going back again soon. The accommodation was perfect but the best part of it all was the hunting. Thanks Once again inland hunting for all that you do and we are very greatful to be a part of it. Keep up the good work and we will speak soon about bookings for 2015. "

Regards Ange
"Good morning,

Just thought I would send you a quick email with some feedback from our hunt at Milparinka.

Although the pigs were hard to find (we only managed 1) we had a fantastic trip. The owner was one of the best property owners I have ever dealt with and was more then happy to answer any questions we had upon arrival.

On the Sunday night we ran into some trouble, getting bogged about 25km's from camp. After about a 7km hike back on to the main road in the property we made a call to the owner who was more then happy to come out and pick us up and take us back to our camp, he even offered to help get the vehicle that night however we were more then happy with just a lift back to camp and went back the next day to recover my vehicle.

Property owners like this are few and far between and having the experience we had over the last weekend we have decided to make an annual trip to Milparinka.

Again Kerrie thanks to both yourself and the owner for making our trip possible and we can't wait to get back up there and have another crack next year! (I will book in the coming months for our next trip, the owner provided us with some great info on what are the best months to hunt so we will be looking at a trip earlier next year)."

Kind regards,

Jayson.
"Hi Girls,

I just wanted to thank the owners of Mitchell 1 property for looking after us while staying at their property. From the moment we arrived they treated us like family, inviting us in for a cuppa and toast on a cold winters morning. They made sure we had everything we needed and that we were comfortable.
The accommodation was fantastic with hot shower, washing machine, toilet, full kitchen and heaters etc. The property is fantastic and huge. We probably drove over 300km while staying on the property and still did not get a chance to explore it all. Thanks for a very memorable trip, we'll be back for sure. "

Thanks
Richard James



"Hello Team,


Just returned from our trip to Nymagee. As you may know we had booked another property every year since 2008.

And since it was not available this year you suggested Nymagee.

Trying a new property for the first time has some uncertainties.

May I say however that from the very moment we pulled up to Nymagee we were impressed.

The accomodation is without fault. Each of the four cabins have their own showers, toilets, heaters, and kitchenette complete with Microwave, kettle, toaster and fridge. There was even a TV in each of the cabins (although I had no time or interest to turn it on)

This level of accommodation was a welcome for both my uncle and father as they are now getting on in age. So the added luxury was very much appreciated. However my concern is that given it was my sons first hunting trip he may have now been spoilt, as the bar has been set very high !

The hosts were very hospitable, with both taking the time to introduce us to the property and amenities.

They have some great plans for this property, and I hope it comes together for them.

The property itself was beautiful with the areas surrounding the hills some of the best I have ever walked.

Game was available. It is evident that the goats are hunted, as well as rounded up on occasions. And because of this they provided the right amount of challenge.

The hosts have a 2 goat per person limit, which I believe is generous enough. They mentioned that they try to manage the game on the property in an attempt to keep it sustainable. This hopefully should provide good hunting for as long as they continue to host hunters.

In short, we had a great time, on a great property with fantastic accomodation and terrific hosts. Positive feedback is rare these days.

And so I thought I'd take the time to provide mine. Thanks for suggesting Nymagee."


Best Regards
Dominic Paruit

"Hello,

Thanks for suggesting North West Cunnamulla station. The owners were excellent hosts. They dropped into camp within hours of arrival to tell us of a mob of pigs they had just seen and also showed us up to a dam with pigs on it. Had a great trip with 25 pigs.

Regards Chris"


"Hi Team. Firstly thank you very much for all your efforts. We've had the best hunt ever on record for us. The owner is a real top bloke. And will be in contact with you when the creek floods, he wants to share the experience with us. We nailed 24 pigs in total and we thinned out the fox population for him too. We'll be back - thanks again."

Paul
"Hello Girls, Just got back from Tibooburra again. We had an awesome time as usual. Thank you and we want to book again for the same time next year."

Jack
"Hello IHP, We were here as first time pig shooters and we shot 35. We saw around 100 over four days. It's a big property to learn. If we were to go back, we would double our numbers. We also saw plenty of red dogs."

Jonty, Vic
"Hello IHP Team, some feedback on Maryborough - The rabbits are there. Some years better than others. There are plenty of burrows, the tracks run along the hills. The foxes come out in pairs at night from the hills and bracken spotlighting is the go. I have been going here for years now. There are a few ducks in season too."

Laurie, Vic
"Review of Packsaddle - Not bad at all. Very good for SA based shooters like myself given the fact it was 726 km from the property to my front door. (Infact its closer than going after goats in my own state!)

The accommodation to be fair is shearers quarters but this is a pig shooting trip! and perfectly excusable. This place has all comforts of home.

This property would be great for a mob of around 4-5 plus blokes.

I didn't see a live pig however I saw a few dead ones around. The pigs didn't want to cooperate but if I was wild pig, I would not want to get shot either.

So not coming home with a set of tusks says more about my ability as hunter than anything else. I'm not in the least bit disheartened I'm keen to have another go ASAP.

The only thing I can pick on is no phone service. Well some by the shower hut and good service by the home stead. That said I went to shoot and disconnect from the world - not send texts !

Already planning my next hunt.

Straight Shooting "

Will
"Just returned from Mitchell 1 and everything was as described. Information and map given by the manager (The owner was on a different farm at the time and could not meet us there) was valuable.
A beautiful area there with good maintained country roads. I was lucky to get a fat sow on the first day in the evening.
We have seen mobs of 15 - 20 pigs at times and even crossing the farm roads sometimes. Not big ones but they were there.
If available, we will re visit this farm. A bit of a long drive but it is worth the effort.

Thank you again for suggesting this property to us."

Sebastian
"Hi Girls,
Thank you for all of your help in lining us up on Bingara with such short notice. The owner and his family were wonderful people who made us feel very welcome, the property was a lot of fun and we had some success bowling over a few pigs.

We will be happy to use your services again in the future."

Scott
"A huge thankyou to IHP for turning a nightmare into a brilliant hunt. We rang Inland Hunting at 3.50pm on Wednesday in desperate need of a property immediately. 5 minutes later we got a call and had a property booked on the spot. The farm was awesome lots of different terrain and LOTS OF PIGS. The owners were friendly and the Accommodation was spotless.

Thankyou IHP your professionalism and your properties are the best.

"

Scott
"Hi,
Not long back from our two weeks away. Just a quick email to say thank you for organizing the trip for me and Mal. Charleville we had a great time, please pass on our big Thank You to the owner who looked after us. Nothing was a problem for him. Very nice place to hunt and stay.

Our second week at Thargomindah was also a great place to be. Many thanks to the owners there. Please if possible pass on our Big Thank You to them as well. Anyway back at work now ( bugger). Thank You once again for organizing two great places to hunt. Many Thanks

"

Gary
"Hi,
My group and i wanted to thank your staff for assistance with the booking at Coolah. This was a fantastic property and the property owner was a very accomodating person who basically let us be and was pleased with the respect we gave his property.

Your service was easy and very efficient, so thank you and your team for providing hunters and farmers with this opportunity.

"

Thiolen
"Hello Girls,
I would like to say it was a pleasure to meet the property owners from the weabonga #3 property, they were more than helpful and the property accommodation was great, I would say bush 5 star and i will definitely be booking this property again.
On another note the property owners are generally good, trustworthy people.
Thank you again and no doubt i will be in contact with IHP in the future.

"

Leon
"Hi there,
Just wanted to say thank you for helping organise this trip. It went really well. Looking forward to hearing our feedback from the property owner.

"

Frank
"Hi IHP,
just a follow up on last weeks shooting trip to Mitchell.

We had a great time, shot a couple of pigs and saw a few mobs but were a little too slow.

Property owners were nice and very helpful.

Cheers, will be in touch regarding the next trip. Can't wait

"

Mitch
"Hi,
Just got back from Hermidale #1. While I would like to say it's horrible , I can't . Not only was it good but the owners were great . Will hope to go back soon. For bow hunting it's fantastic and the owners are great people . I got 2 punctures getting there and they took time out to help.

"

Will
"Hi to the girls at the home office,

We just returned from our hunt yesterday and what can I say!

Our host is a great bloke, we thank him for his hospitality.

The property has some of the most superb Australian landscape that one could ever wish to see.
With a combination of open grassland and heavily timbered valleys leading upto sheer White Cliffs, we were spell bound!!!
The accommodation was as expected with only the basic necessities, which is all we wanted.

With plenty of goats visible and evidence of other feral animals the hunting wasn't bad either.
Would definitely return for the sheer beauty of the place alone.

We left the accommodation better than we found it and obeyed all the rules of the land whilst there.
Overall a very positive experience from start to end.

"

Eren
"Hi Girls,
Just to let you know, we had a great stay at Packsaddle. The owners were wonderful hosts, the facilities were great, hunting was patchy but nevertheless enjoyable.
It was great.

"

Chris
Ready to Book? >>Click here
Also in this Section