List your Property with IHP
Totally transparent. No secretive middleman - a true partnership

We connect you with reputable hunters that have a minimum 4-star rating out of 5 – as rated by us, you and other property owners. We get to know you well and then we work together to find the right guests to suit you and your property.

The University of Queensland estimates that Australia has around 350,000 active hunters, who invest a conservative figure of $557-million annually into the Australian economy. The majority of this is in the Eastern states.
There are approximately 134,000 farm businesses in Australia, 99 percent of which are family owned and operated. Each Australian farmer produces enough food to feed 600 people, 150 at home and 450 overseas. Australian farmers produce almost 93 percent of Australia's daily domestic food supply. Source - National Farmers Federation.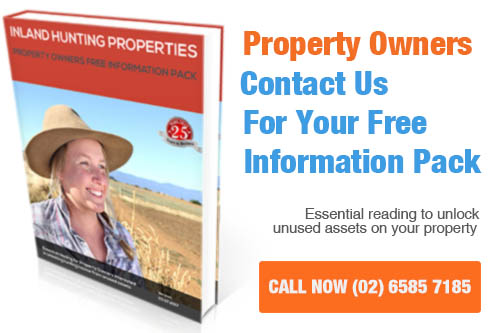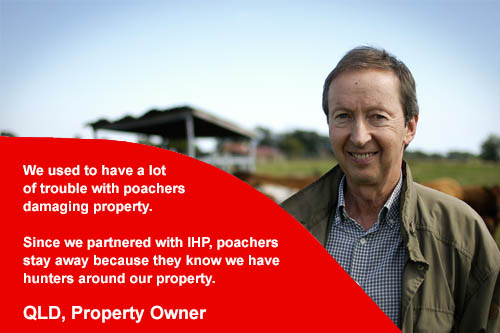 We work with you to manage your sustainable hunting resource
As a landholder or owner, we are sure you are well aware of the increasing and senseless destruction of property and/ or livestock caused by illegal and negligent hunting, and by feral animals and introduced pests.


This is severely crippling the farming industry and is jeopardising the activities of responsible and ethical hunters, who wish to pay and gain hunting access to some of the most beautiful country Australia has to offer.

Click here to read more property owner success stories
Visitors pay at the gate
Many property owners have earned a good income from under-utilised assets on their properties and you can do the same. Our property owners benefit from the additional revenue stream, especially in times of drought and low crop and stock prices.

This additional income doesn't require a big time investment – your hunting property can easily be run casually by a family member.


If you'd like to earn an additional weekly income with minimal effort, call the IHP Family Team on (02) 65 857 185 for a chat and a free information pack.

Not Ready to call? Click here to download our Property Owners Brochure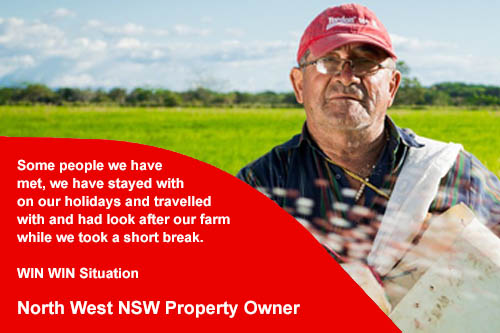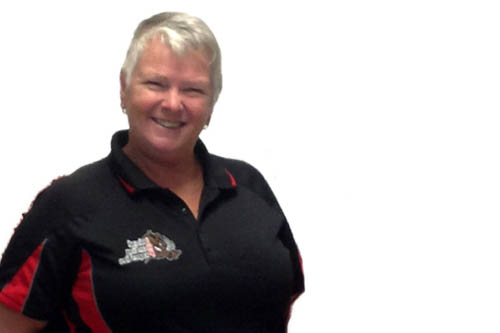 Who owns IHP?
John and Kerrie Eggins have been operating IHP since 2008, with the business going strong since 1992.
Their core aim is to connect Australian property owners with ethical hunters.
IHP help you provide safe access to premium properties for responsible shooters, bow hunters, campers, families, outdoor enthusiasts, and fishermen looking to escape the city for a meaningful connection to the land.
Kerrie Eggins
Part owner of Inland Hunting Properties with her husband John. Runs all the office work. She has built the business up since they took over the business in 2008. Trusted by all her property owners and hunters alike. She is definitely the hard worker of the office side who keeps it all running smoothly.
John Eggins
Part owner of Inland Hunting Properties with his wife Kerrie since 2008. He has been a lover of hunting since he was a boy. He loved the time spent away hunting with his father and brothers. He is a real country man at heart, who in the past 3 years has brought a small property of his own to get out to and enjoy living life. John also owns an oyster farm which he runs with one of his sons.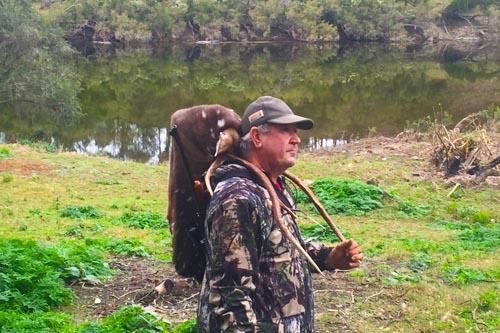 John, a hunter for many years himself, knows how important this access is to his chosen sport:
"We understand first-hand property owners' concerns over providing access to hunters, so we only match premium hunters to your property.
All hunters are assessed and rated by our team, by you and by other landowners. If a hunter does not match up, we do not provide a booking.

New property owners have direct access to our elite hunters who have been with us for 25 years. We want to provide a long and mutually beneficial solution to the destruction caused by feral animals that are affecting Australia."


Contact the IHP Family Team now on (02) 65 857 185 for a free information pack.
pdf Property owners - click here to download our brochure for more information, or to help share it with others. (144 KB)