The Girliambone hunting property spreads out over 7000 acres and offers the opportunity for a variety of different hunting styles.
There are 11 paddocks of various sizes with a total of 13 dams. About 30% of the property is open cropping country and grass lands. The crops vary each year between wheat, oats, barley, chick peas, lucerne and lupins. The remaining 70% consist of light to medium scrub and forests with semi dry creeks. Stock kept on the property are cattle and sheep.


Game Found on Property
Game commonly found are pigs, foxes, wild cats, rabbits, hares and ducks. Trophy goats might be available for a fee at the property owners' discretion, please check with owner before arrival.
The property has been family run for five generations and the owners are more than happy to give you good advice on ideal hunting times and locations for the kind of game you are looking for. The owners live and work on this property so have a good idea of the habits of the game.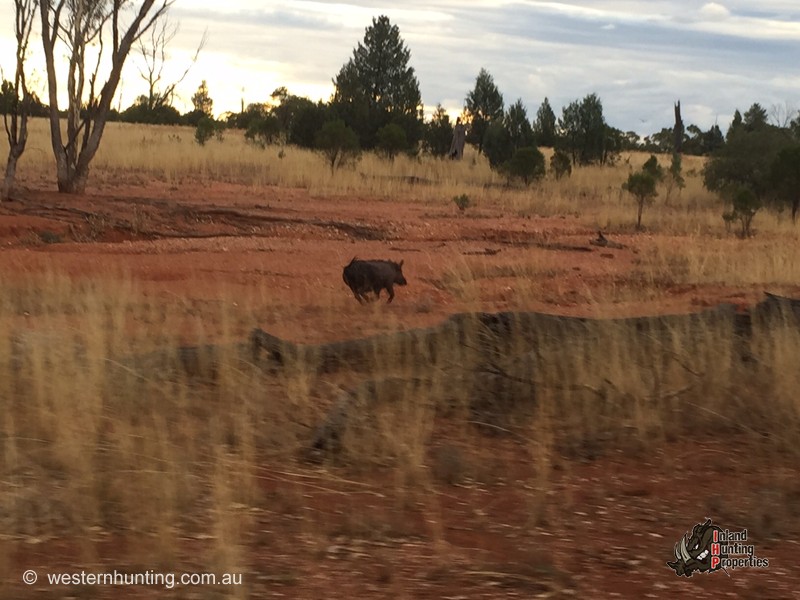 The camp site is centrally located on the property and all paddocks can be easily accessed from there. There is no need to bring firewood with you, the property has firewood available for you to collect near the camp site and use at the fire pit at the camp (please be aware of possible restrictions due to fire bans).
Public showers and toilets are available within a 2km drive. They are opposite to the local pub which serves lunches, dinners and cold drinks.
About 80% of the property will have mobile phone service with Telstra.
Rules on the property are simple and include common sense. Please read the conditions for access to IHP properties on the back of the map you will receive on arrival. Some additional property specific rules were noted on the front of the map. These include to make sure that you take all your rubbish with you or bring it to the local tip (2km).
In respect for the hunters following you please do not leave carcasses near the camp site and also make sure you bury your toilet waste at least 100m from camp. Further we ask you not to leave any cans or glass bottles in the fire pit – they do not burn and the hunter's arriving after you deserve a clean fire pit and camp site.

Do not drive on/ across crops – these cropping areas will be marked on the map you receive on arrival. You will also be advised of lambing season on arrival and need to be particularly mindful when driving around stock, especially during this season.
Our Surroundings
This property is only a few Kms from the township of Girilambone with the quirky little country pub "Hog & Billy".
Public shower and toilet facilities are available in Girilambone.
Have family with you that isn't into hunting as much as you are?
Within a half an hour drive they can reach the small mining community Nyngan with the famous Big Bogan, Parks, Cafes and Restaurants and a small museum. Nyngan also allow you to stock up on groceries and fuel if required.

Or head north to Bourke – it is only a 150km drive and offers great opportunities for day trips, e.g. a cruise on the Darling River in the paddle vessel Jandra or a visit to the Back O' Bourke Exhibition Centre.

Feel like catching your own dinner and getting away from the crowds? Head down some dirt roads to the Bogan River for some great yabbying and fishing opportunities only about 15kms from the property.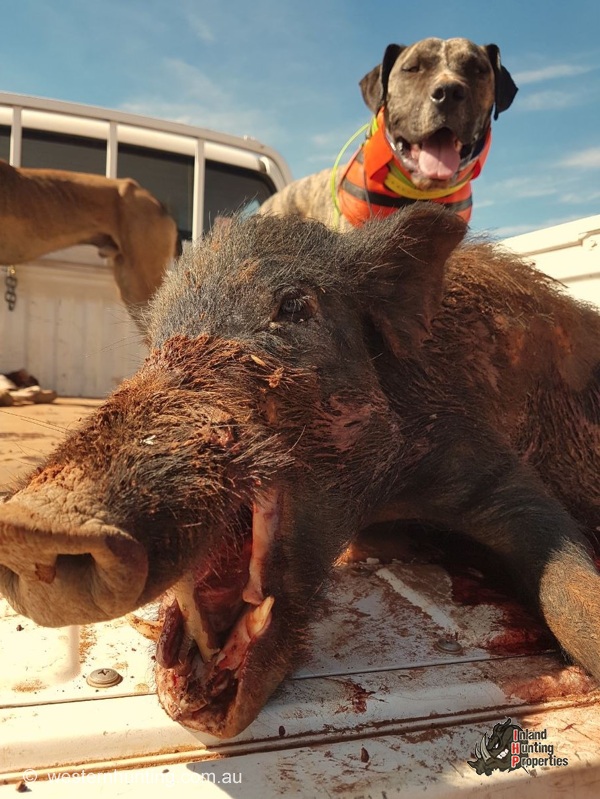 Girilambone #1 NSW Hunting Property
Hi IHP, thankyou very much for your assistance with the process of booking the property at Girilambone. The owner was very welcoming and helpful with guiding us around the property. This property is highly recommended and we will definitely be back sometime in the near future. We had a successful trip hunting for our main species, pigs and other ferals. I hope Matt was happy with the outcome and the group of hunters. Thanks again
Rating:
5
PROPERTY ACCESS
For access to properties, Shooters and Bow Hunters require current membership of one of the following:

All Doggers on dogging approved properties need to be a member of the APDHA
For non-hunters attending with hunters on properties, although not compulsory, we do suggest and recommend joining the Shooters Union.
We also recommend current ambulance cover.
You enter these properties fully aware of the risks involved and do so at your own risk.
IHP, property owners and all related and unrelated parties are not held liable for any claim, accident or injury.
In other words, take responsibility for your own actions, watch what you are doing and ACT LIKE AN ADULT WITH COMMON SENSE.
We truly want everyone to have a great time on our properties. Take time to read and understand the Conditions of Property Access
BRINGING BIKES, BUGGY's or QUADS/ATVs?
RIDERS READ BELOW:
Risk assessments must be taken for potential hazards whilst using any bikes, quads/ATV or buggy's on the property.
Some properties only allow certain types of vehicles. Please check listing carefully.
Helmet and protective gear to be worn whenever operating these vehicles.
We recommend the Yassi Course or some form of accredited training be taken prior to using any bikes, quads/ATV or buggy's on the property.
Bikes, buggy's and Quads/ATV are to be taken onto properties entirely at your own risk.
No responsibility will be taken. Assess your own insurance for these recreational vehicles.
You release and indemnify IHP and all related parties against any claim of any kind whatsoever.


If in doubt or you do not agree to or understand these terms, do not bring and or ride bikes, buggy's or quad/ATV.