6,000 Acres with Pigs, Foxes, Cats, Rabbits, Hare & Yabbies
SSAA OR HUNTING CLUB MEMBERSHIP REQUIRED BY ALL HUNTERS
>> Scroll to the bottom for all property details
>> Manilla #1 Hunting Property
Manilla #1 is a 6,000 acre property offering lots to do with hilly to undulating country where plenty of pigs, foxes, rabbits, deer, and yabbies can be hunted including with dogs and bow hunting.


You do not need a 4WD to get to the property, but you will need one to get around the property.


Telstra and Optus are available on over 95% of the property.


You will need to bring bedding and food but good sleeping quarters is available for your stay.


No need to bring firewood – the property has available firewood lying around the property for you to collect.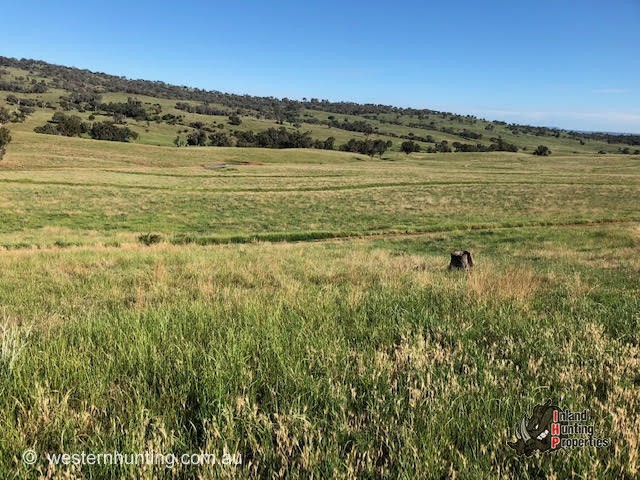 You can sight your firearms at your campsite, of course observing all safety precautions. Target shooting is allowed and there are no extra trophy fees.
Terrain
The terrain of Manilla is mainly hilly grazing cattle country, with crops in the valleys, plenty of timber and gorges. It is great terrain for dirt bike riding so many people bring their motorbikes.
Best Time to Book
Booking is suitable for all year round.
Best arrival time is after 7.30am and before 9pm if possible, departing anytime.
Facilities
The property features two good separate sleeping quarters - 6 beds in one and 5 in the other (bunks and singles) – a long drop toilet, freshwater tank, table and chairs, and fire pit. Advised to bring swags, lighting, and all food.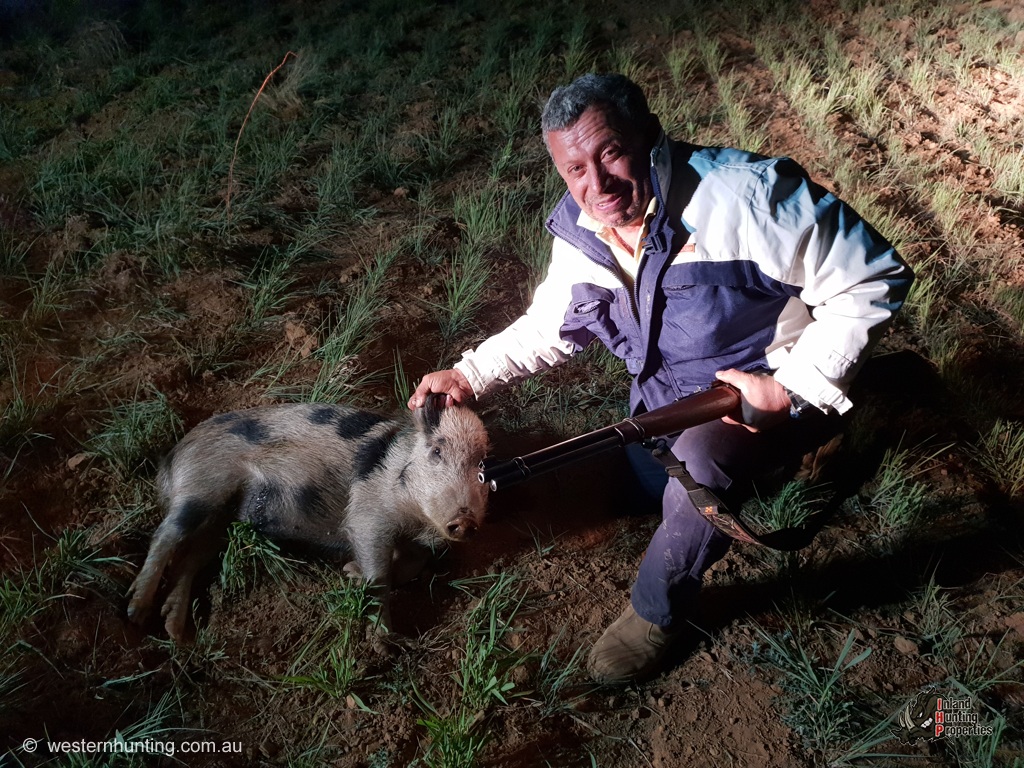 Temperature and Rainfall
Summer rainfall mostly and 27 inches yearly is standard.
Property Owners Rules
Rules on the property are simple – follow and read the conditions for property access book.

Common Sense – leave gates as found, no shooting at or within 500m of stock, or on ridgelines, respecting property boundaries, avoid driving on crops. Be mindful of driving close to stock.
Do not shoot anywhere near main house or owners' pets. Hunt respectfully.

Take all rubbish with you to the designated area, obey any fire restrictions especially total fire bans.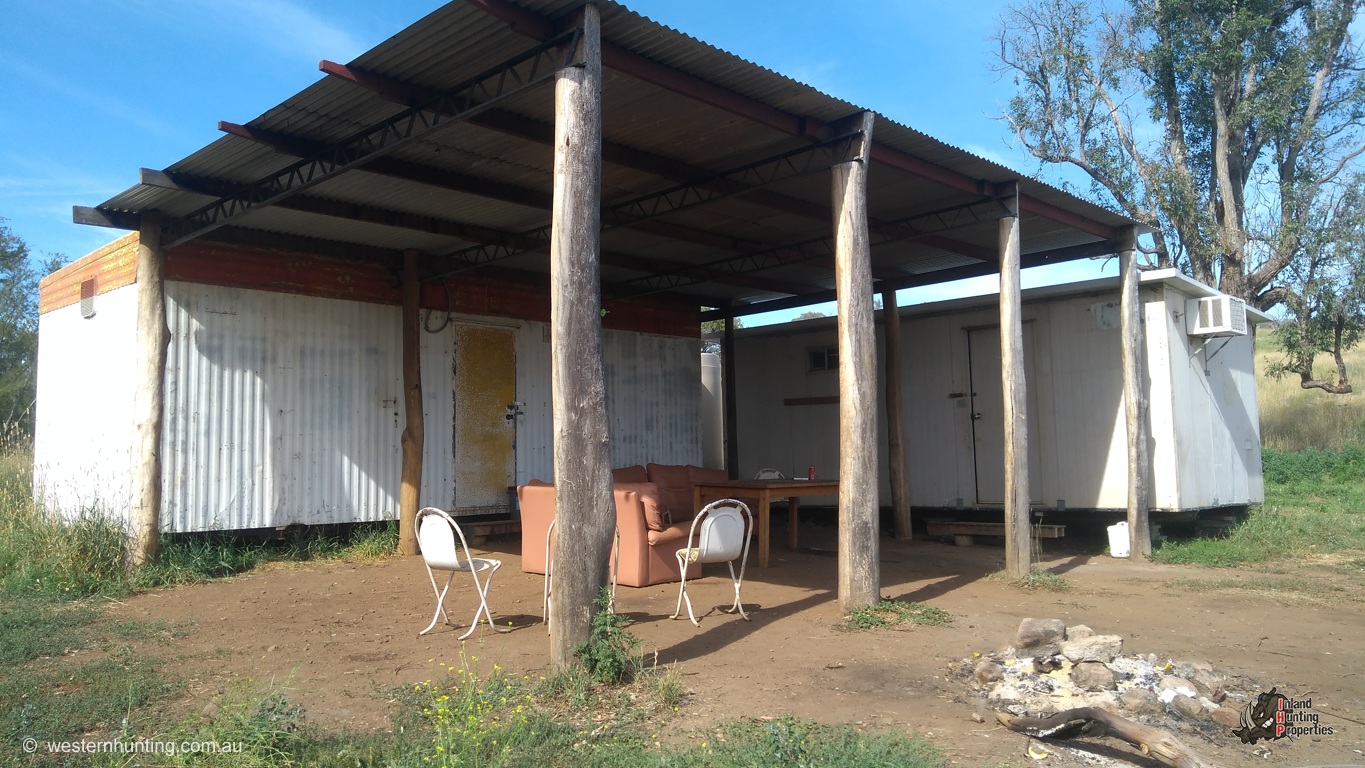 Items of Interest on the Property
Visitors love the scenery, views, abundance of wildlife while hunters love that there is plenty of game around.
Families that visit can also enjoy bush walking, yabbying, playing in the creek or dams, bird watching, motorbike riding, pushbike riding. The property owner has horses, chooks, and dogs to pet and are happy to have a chat to guests.
Property History and Information
Barraba was established as a service town for local farmers in the mid to late 1800s on the back of grazing and the gold rush.
The area is some of Australia's best farming land, much of which is still owned by descendants of the district's founding families – the Manilla farm has been in the family for 90 years.
The region was once known for its wool and wheat but is now celebrated for its world-class beef production and is surrounded by some of the most picturesque and productive beef grazing country in Australia.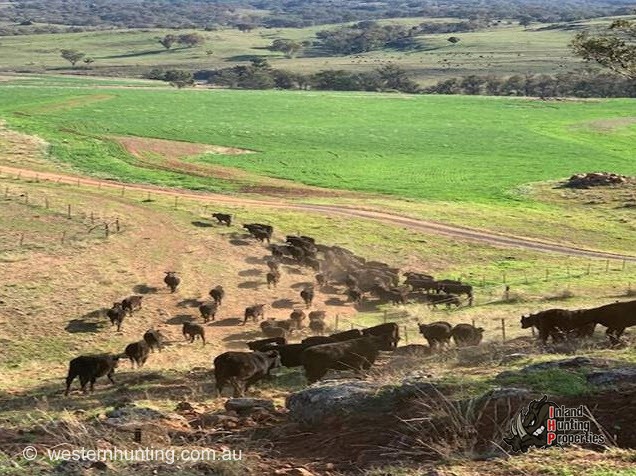 Tourist Attractions
16km from Barraba, 30 kms from Manilla.
Manilla has international fame as an exciting destination for sports flying, including paragliding, hang gliding and sailplane gliding. Mount Borah hosts state and national paragliding competitions every year (Mount Borah is about 20 minutes away).
Split Rock Dam is also close, being about 20 minutes away and is a great spot to camp, fish and go sailing or water-skiing.
The Horton Falls has a spectacular 83m high waterfall and Mount Kaputar National Park is also well worth a visit.
Barraba has become known as an arts and culture hub. The Barraba Silo mural, The Water Diviner, is fabulous to see on your way into town. The artwork also features the Regent Honeyeater bird, which is an endangered bird that is regularly sighted in the district.
Around Barraba there is plenty to do: Bird Watching, Saturday Morning Markets, Races in September, lots of boutique shops, art gallery, 3 creeks gold mine in Upper Bingara, a New Year's Rodeo and Camp draft in the Upper Horton, Frost Over Barraba Art Festival in July and the local Barraba Show in March.
There are lovely cafes in both Barraba and Manilla, and the pubs offer a good feed as well.
Additional Supplies
Barraba is the closest town which is North of the property and is only 10 minutes away. Manilla is 20 minutes South away.
The fuel stations and local IGA close between 7-8pm daily.
It is recommended visitors come well equipped and bring insect repellent in summer.
HUNTER REVIEWS
Manilla #1 NSW Hunting Property Review
Hi, Just wanted to thank IHP for a fantastic opportunity at the Manilla property NSW. The property was amazing and the owners are some of the nicest people around. A big thank you to everyone and we will be using you guys in the future.
Rating:
5
Manilla 1 NSW Hunting Property Review
Reviewed by:
Osama Kanafani
Brilliant property, we were very happy with the variety of terrain and the overall layout. We managed to drop many pigs and the dogs were very busy, the accommodation was clean and provided great cover from the sun. Well worth a trip, we will be back soon.
Rating:
5
SUBMITTED HUNTING PHOTOS
PROPERTY ACCESS
For access to any of our properties, all Shooters, Non-shooters and Bow Hunters require current membership of one of the following:

All Doggers on dogging approved properties need to be a member of the APDHA
For each non-hunter attending any of our properties, it is compulsory to be covered by current comprehensive public liability insurance. This is a non-negotiable requirement and forms part of your booking contract. Similar to having travel insurance to go on holidays. This insurance is available by being a current member of an AHO, the SSAA or the Shooters Union before your booking is approved.
We also recommend current ambulance cover.
You enter these properties fully aware of the risks involved and do so at your own risk.
IHP, property owners and all related and unrelated parties are not held liable for any claim, accident or injury.
In other words, take responsibility for your own actions, watch what you are doing and ACT LIKE AN ADULT WITH COMMON SENSE.
We truly want everyone to have a great time on our properties. Take time to read and understand the Conditions of Property Access
BRINGING BIKES, BUGGY's or QUADS/ATVs?
RIDERS READ BELOW:
Risk assessments must be taken for potential hazards whilst using any bikes, quads/ATV or buggy's on the property.
Some properties only allow certain types of vehicles. Please check listing carefully.
Helmet and protective gear to be worn whenever operating these vehicles.
We recommend the Yassi Course or some form of accredited training be taken prior to using any bikes, quads/ATV or buggy's on the property.
Bikes, buggy's and Quads/ATV are to be taken onto properties entirely at your own risk.
No responsibility will be taken. Assess your own insurance for these recreational vehicles.
You release and indemnify IHP and all related parties against any claim of any kind whatsoever.


If in doubt or you do not agree to or understand these terms, do not bring and or ride bikes, buggy's or quad/ATV.